The winter is coming. Harsh winds, heavy snow, ice storms, cold temperatures as well as animals can cause a huge damage to trees in winter. So, your job is to prevent all of these problems and protect trees against winter damage. Tree wrapping needs to be a key part of your winter tree care program.
Today, we'll provide you with some insights into tree wrapping. First, we'll concentrate your attention on the most important benefits of tree wrapping. Then, we'll tell you other important things that you need to know about wrapping trees.
Why It's So Important to Wrap Trees for Winter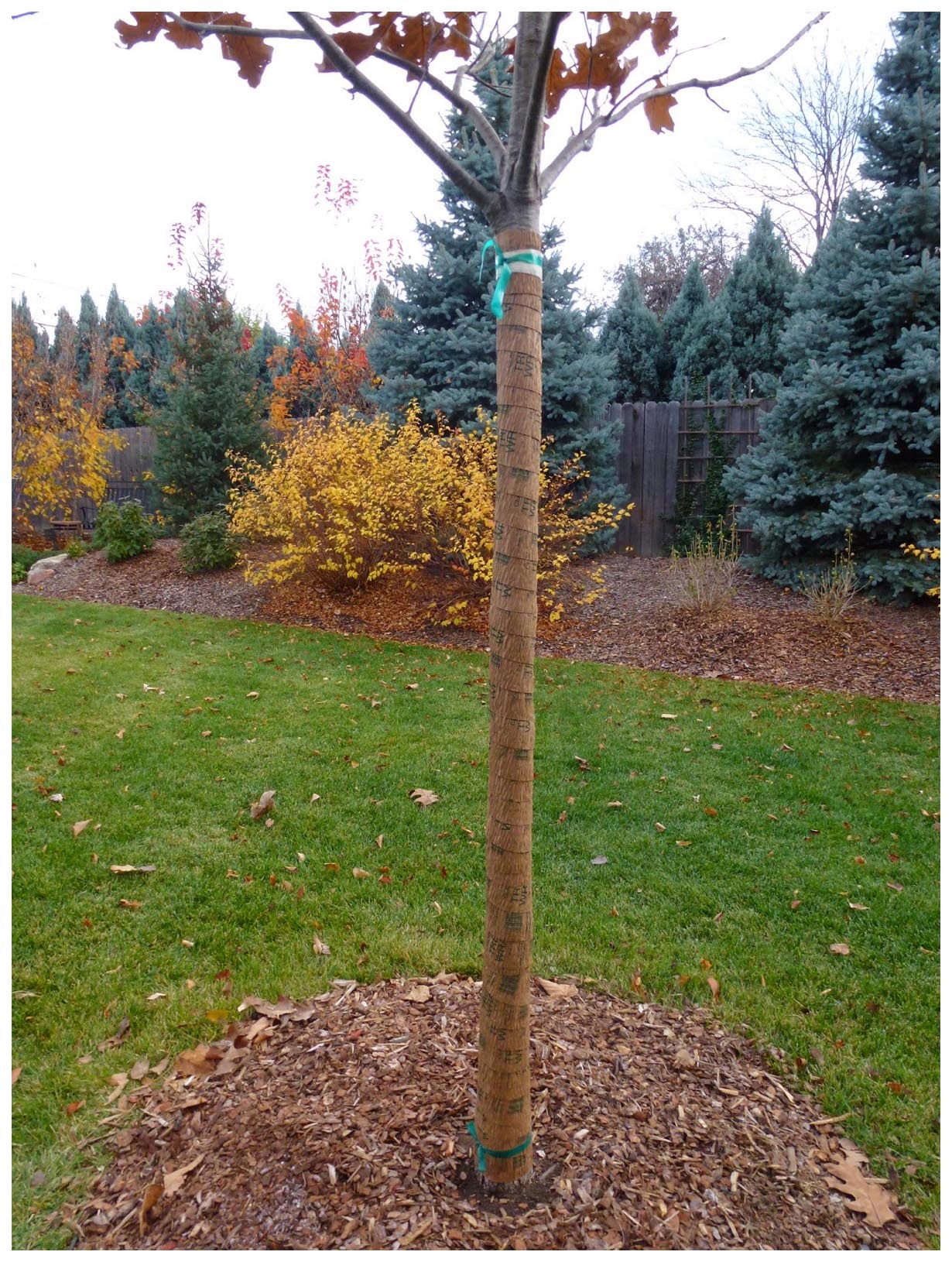 – Tree wrapping is particularly important for newly planted trees and thin-barked trees such as ash, linden, maple and many others. The bark of these trees is very sensitive to cold temperatures. Cedar trees and fruit trees also need to be wrapped for winter. Wrapping protects them from cold.
– Tree bark may contain water. Winter sun causes warming of tree bark during the day. However, water in the bark freezes at night. As a result, bark may begin to split and get so called frost cracks. Wrapping a tree trunk helps prevent tree bark from cracking. Tree wrapping also prevents other types of problems with a tree.
– Some animals tend to eat bark of trees during cold winter months. Oftentimes, trees are attacked by mice, rabbits and deers during the winter season. However, if a tree trunk is wrapped properly animals will have no chance to damage your tree.
– When tree trunk is not wrapped, tree bark may trap moisture in winter. This type of traps create a good environment for pests. If done right, tree wrapping helps prevent tree pests.
Things You Need to Know about Tree Wrapping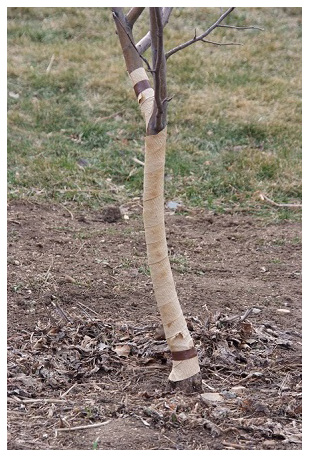 – Two types of materials are used for wrapping trees for winter. These are plastic tubes and thin paper. Plastic tubes effectively stop deers and rabbits from chewing on bark and damaging a tree. Thin paper effectively protects a tree against snow, ice and cold weather during winter months.
– Snow and ice storms are a big problem for trees in winter. However, if your trees are properly wrapped they can go through the winter season successfully.
– Trees are wrapped in late November. Depending on the weather conditions and temperature in the spring tree wrapping is removed between late March and early-middle April. Remember, trees don't have to be wrapped for longer than necessary.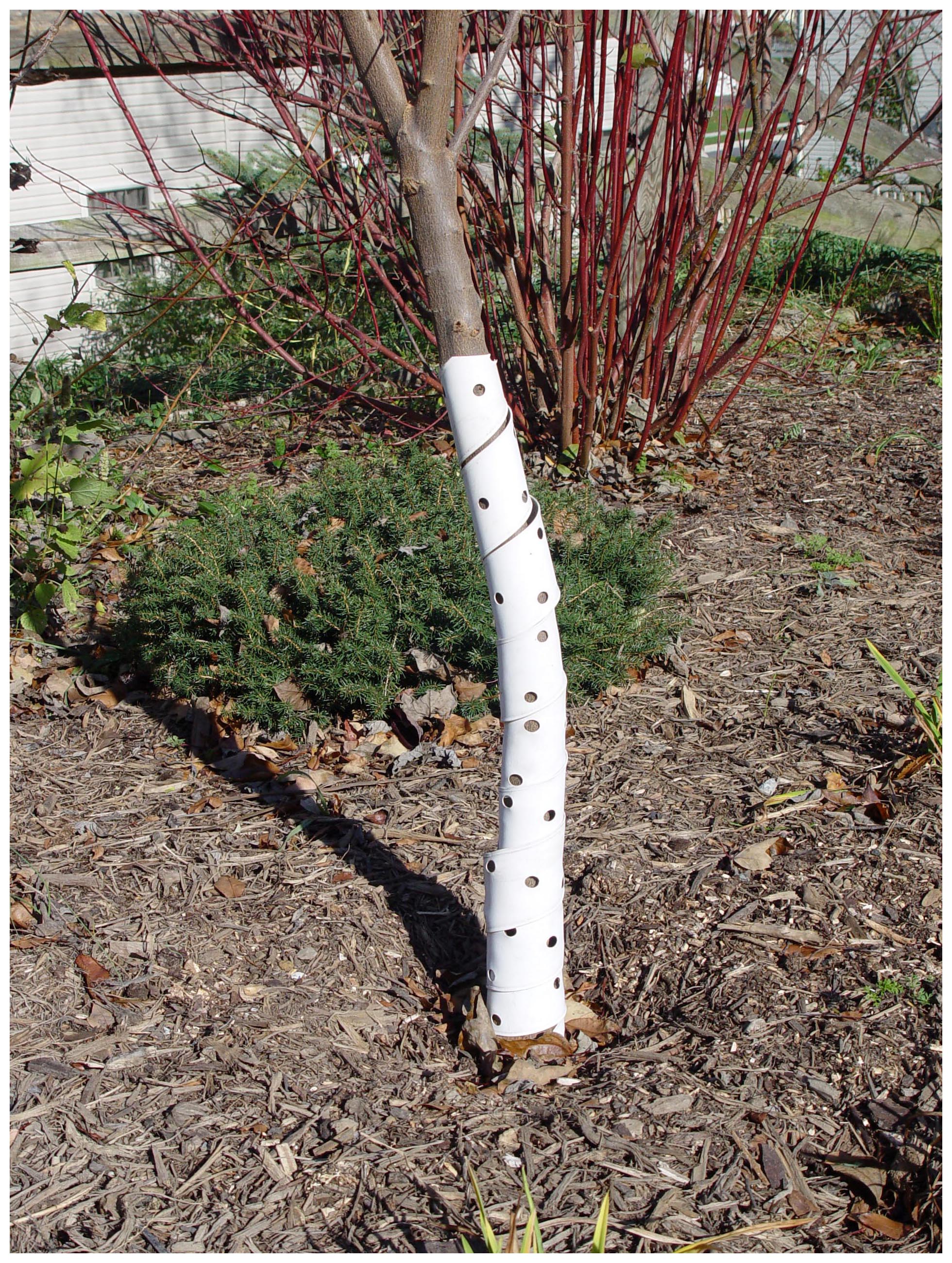 – Tree trunks are wrapped from the bottom to the top. Trees need to be wrapped at a slight diagonal. You should wrap a tree trunk up to its lowest branches. Tree wrapping has to be secured either with tapes or wires. The end of the wrap has to be buried in the soil. The soil around the base of the trunk has to be mounded.
– Tree shouldn't be wrapped very tight. When wrapping a tree you need to make sure that there is air circulation between wrap and the bark of a tree.
– When wrapping trees you also need to ensure that there is no moisture between the successive layers of the wrap.
– Tree wrapping is no easy job that requires special knowledge and experience. That's why you should ask tree care professionals for help when you need to get tree wrapping work done.
Cedar Wrapping for Winter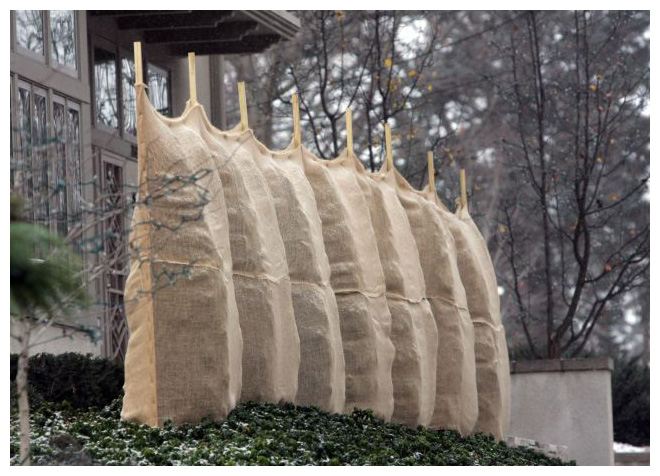 Cedar trees face a lot of challenges during the winter season. Cold in winter negatively affects health of cedar trees. If done right, wrapping effectively protects cedar trees from cold.
Cedar trees are favorite food for deers. If your property is located in rural area then your cedar trees can also be attacked by hungry deers in winter. And of course, you should take all the necessary measures to protect cedar trees on your property from deers. Wrapping is a great way to prevent deer damage.
Winter poses a huge threat to newly planted cedar trees because they don't have an extensive root system. That's why you should definitely wrap newly planted cedar trees on your property at least for the first couple of winters.
Tree Doctors have been doing tree wrapping for many years. Our highly skilled arborists will wrap your trees for winter professionally. Take advantage of tree wrapping to keep your trees healthy and strong during cold winter months.