Tree Doctors Are Here To Save Your Trees!
This winter has truly been one for the record books. Harsh winter storms with high winds and record-breaking amounts of snow have pummeled much of the North. Now that spring is just around the corner, it's time to emerge from your winter hibernation and check out your home and property to see if these intense storms have caused any damage that needs attending to. Though it may be tempting to forgo this inspection and begin soaking up some sun and enjoying the great outdoors, ignoring these minor problems now can mean major (and expensive) repairs later.
Saving Damaged Trees
While you're making your list of areas to inspect both in and around your home, don't forget to add your trees and landscaping. You may not have realized this is a necessary step following harsh winter storms, but trees, bushes, and other landscaping may experience damage due to the high winds and excessive moisture. A common misconception when dealing with storm-damaged trees is that they must be torn down. While sometimes this is the case, many of the damaged trees can be saved with a little bit of tree first aid; however, it is important that you get help from a professional to determine whether your damaged tree can be saved and, if so, how to go about doing it properly.
 Storm Damage
There are two main ways that trees can be damaged during a storm. The first is when high winds cause most of the canopy branches to break off or crack. Extreme winds may even knock over older trees with heavy canopies, exposing their root systems and uprooting the surrounding area. The second cause of storm damage is when the soils surrounding the tree become waterlogged due to heavy rain, snow, or other precipitation. The waterlogged soil deprives the tree's roots of oxygen, which is necessary for its continued root growth. This type of damage typically results in destabilization of the root system, which makes the tree more susceptible to being knocked over.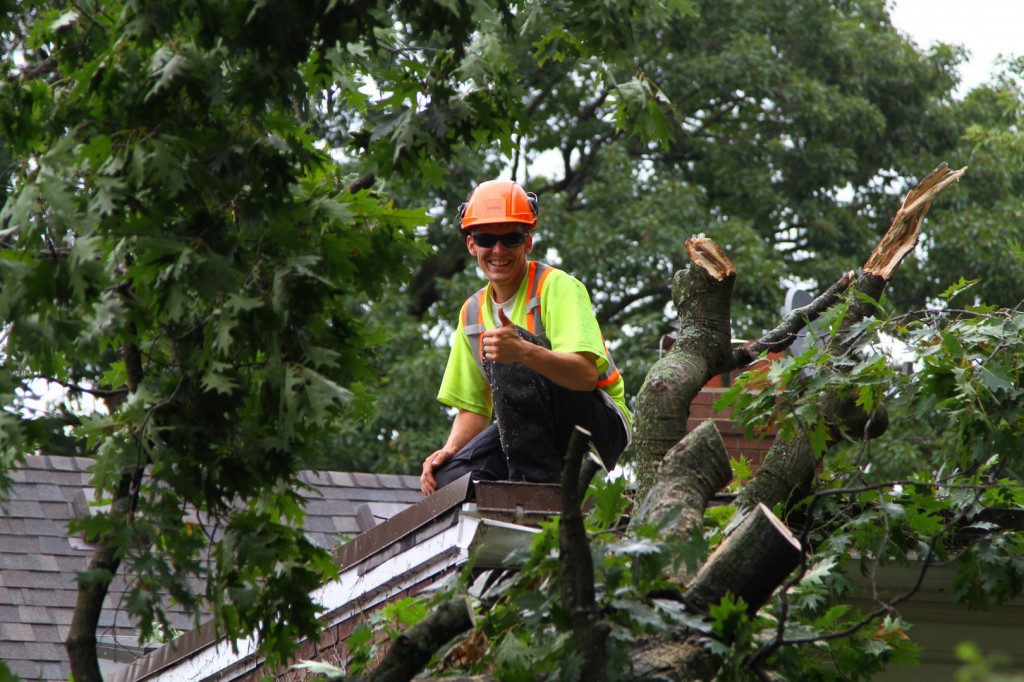 Saving a tree damaged by a storm requires removing damaged limbs, careful pruning, and possibly even bracing if the tree needs a little help establishing its root system again. While you may be familiar with the protocol for general tree pruning, pruning a damaged tree in an attempt to save it requires training and experience. Attempting to save a damaged tree without professional help may cause further damage or losing the tree completely, which could then cost you quite a bit between hauling the old tree a way and planting a new one in its place.
Free Tree Inspection and Consultations
Before you call in the professionals at Tree Doctors, you can perform an initial inspection of all of your trees to determine which ones may need some extra TLC to get back on their feet. The first thing you want to consider is the overall health of each of your trees. If they were healthy and strong before the storm, there's a good chance they'll recover from any damage they sustained. Next, you'll want to assess the branches and limbs on the tree. Trees with many of their major limbs broken or with major damage to the leader, which is the main branch of the tree, may need an arborist's help. Make sure to check the trunk for damage as well as assess the wounds caused by the broken branches as well. Once you've checked over all of your trees, determine which ones need special attention and then schedule an appointment with the highly qualified arborists at Tree Doctors so they can come out and let you know what can be done.
Tree Pruning and Maintenance
As you move into spring and summer, you'll be glad you called Tree Doctors to fix you trees so you can relax beneath them during the warmer weather. Don't forget that trees that sustained damage and have been saved need extra attention for a couple of years to make sure they survive, so schedule checkups regularly. You put a lot of effort into making your backyard an oasis, make sure you and your family can enjoy it for years to come with proper pruning and tree maintenance throughout the year with Tree Doctors.