There's probably no better way to spend your day off chilling in a chair in your back yard enjoying the nature. Most people who own private homes would agree that plants, specifically trees, make our yards look beautiful and provide us with lots of benefits such as shade, privacy and moreover, they increase the value of the property. Being a very nice addition to your property, trees contribute greatly to the health of our planet too. They take part in producing oxygen, storing carbon and recycling moisture into the atmosphere, so if you decided to plant a couple of trees on your yard you made a good decision.
There are a few factors that have to be considered before planting a tree. Trees' biological needs, their shape and size at maturity, and how they would match your landscape help determine the best tree to plant in a particular location.
Depending on what group you are considering, coniferous (evergreen) or deciduous, each of them has a lot to offer.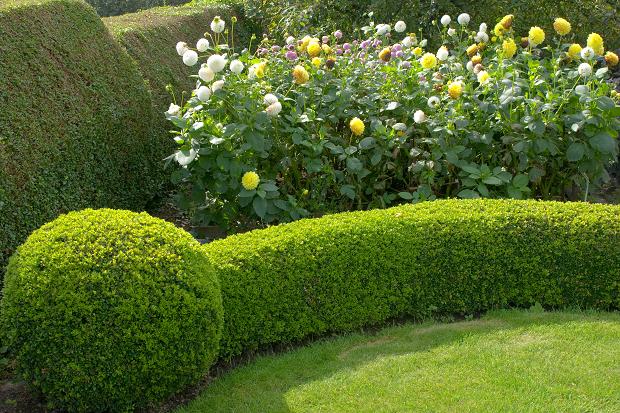 Evergreen trees and shrubs will provide you will a lot of privacy and at the same time they won't take a lot of space in your yard. White Cedar (Thuja Occidentalis) is one of the most common species used to gain natural screen.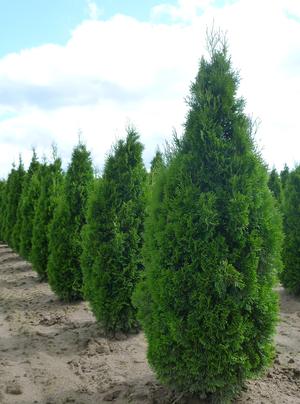 The bigger the shrub the more spacing is required. Cedars of 3' to 6' height should be planted 1 foot from each other. The taller ones, 7' to 9', better to plant 1.5 foot from each other and if you choose cedars of 10' and above – one cedar per every 2' or possible more depending on how large of a height you purchase. One thing to consider is that tall cedars will take longer to establish after having been planted and they will show slower growing rate.
Another specimen native to Canada is the Emerald Cedar. It is a fast growing specie that can grow up to 1 foot per year. You may plant it as a single bush as it can spread up to 4 feet when mature, and you may plant a few of them if you are looking for good screening and privacy. Plant them two feet apart from each other, it will give you a good solid hedge in future.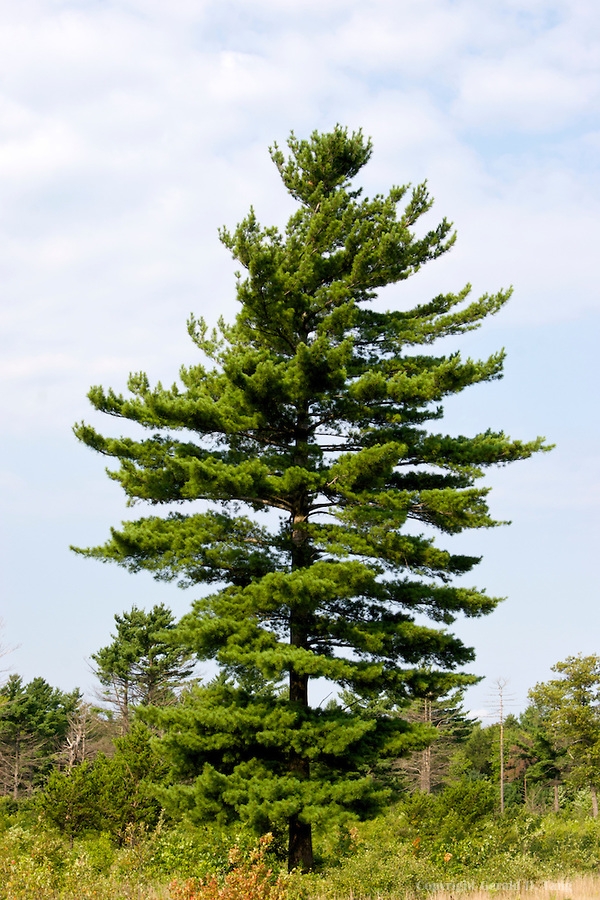 Another fast growing evergreen is a Red Cedar. This bush can grow 1 to 2 feet per year and should be planted 2 to 5 feet apart if you decided to plant a few of them. It is good for both individual and group planting.
For those who are looking for something taller and denser, White Pine will be a good choice. This tree is a fast growing specimen that can grow more than 40 meters tall and is found in most of Ontario. White Pine will grow quickly if planted in direct sun.
Scotch Pine grows a bit shorter than White Pine, so if you are looking for something with same dense crown as White Pine has but smaller in size, Scotch Pine is the right tree. This tree grows to 15m height, has a medium growth-rate and long lifespan.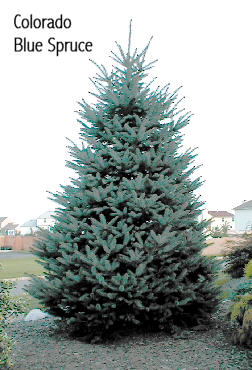 Another standing out species is a Colorado Blue Spruce. It has low growing rate and provides your garden with lots of shade and privacy as it branches densely when mature.
Not only evergreen trees can give you some good shade and contribute to your property with good landscaping view. Some varieties are good for providing shade and bring more aesthetic features to your garden.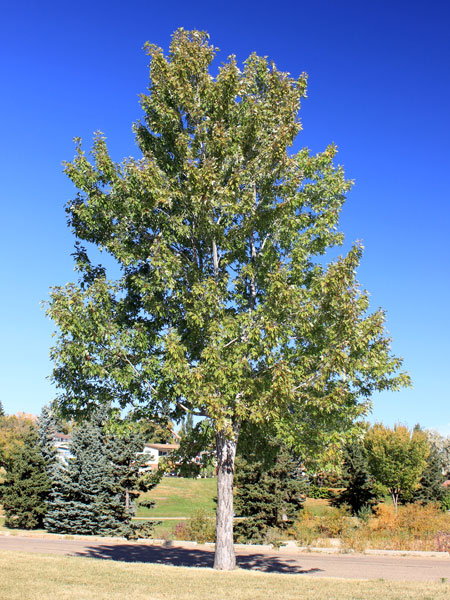 The #1 leafy tree to consider is the Silver Maple. It's a fast-growing, large deciduous trees that has short trunk and sharply branched crowns. Silver Maples blooms with red flowers in early spring and has beautiful five lobed leaves. This tree has large crown when mature therefore it requires a lot of space.Silver Maple grows up to 20m height and has long lifespan. Besides, it has a low suckering rate so you won't be bothered by having to prune it often.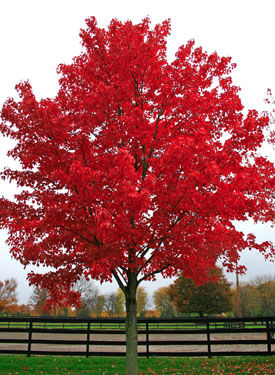 Another good alternative is a Red Maple. It's a medium-sized tree that can grow up to 18-25 meters tall. This specimenhas deep red flowers, twigs and seeds, which are especially beautiful in autumn. Red Maple is a great choice to gain privacy, however, it requires a lot of space in the yard due to its ample root system.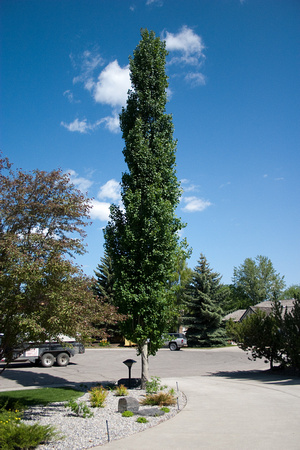 If you do like deciduous tree but don't want canopy to be spreading a lot, Poplar or Aspen trees will be the best choice. If you are looking for a good privacy for a shorter period of time, Swedish Aspen will help you to gain that. It is an extremely fast growing columnar aspen tree. It's ideally suited for places with limited space such as along the edges of driveways or on property lines. Swedish Aspen has low suckering rate therefore requires less maintenance. If you can't find Swedish Aspen in your local nursery you can go for a Tower Poplar which is very similar to Aspen.
The above provided information will help you to decide which tree to plant to make your garden look better, but remember: no matter what tree you plant: the essential point is to take care of it good enough so that it thrives and brings joy to your life.
2016-04-07 15:11:00
biological, Colorado Blue Spruce, Emerald Cedar, evergreen, group planting, Oxygen, planet, plants, property, Red Cedar, Red Maple, Silver Maple, Swedish Aspen, Trees, White Pine