Tree Doctors – Tree Removal in Toronto and GTA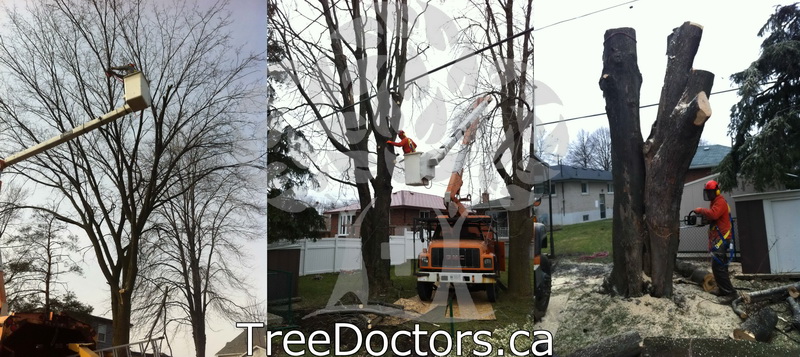 City of Toronto Tree Removal
Tree Doctors are committed to the preservation of Toronto trees, but no matter how much we like trees, sometimes it becomes required to remove a tree due to various reasons. Trees can become dangerous because of their age or because of infestation; they can also become structurally unsound or have to be removed due to a new construction project.
Introduction to Tree Removal
Call us at 416-201-8000  and our licensed arborists will give you free advice for the best cause of action for your individual situation.
Tree Removal Permits
In most municipalities, the removal of trees is regulated by Private Tree By-Laws. For example, the City of Toronto requires a permit for tree removal and injury of all privately owned trees, which measure 30 cm in diameter or more, as measured at 1.4 m above ground level. The City of Mississauga requires a tree-removal permit for the removal of more then two trees per year. Our certified Arborists are well informed about all current regulations and will take care of your tree-removal applications and permits.
Professional Tree Removal
We have all the necessary equipment and expertise to remove any type of tree. There are no trees that are too big or too small for us. We specialize in the removal of trees in difficult situations, as well as the removal of large and dangerous trees. We have a designated emergency team for our 24/7 emergency tree-removal services. All our tree services are covered by full-range liability insurance for up to $5,000,000.00. At your request, we can provide all insurance certificates and references. To prove that we offer the best value for your money, we will beat any written quote given by licensed tree-service company in the GTA!
We are looking forward to helping you with all your tree-removal needs!
Houzz